Generate Comprehensive, Interactive, and Shareable Power BI
Reports, Swiftly Obtain Actionable Insights to Innovate with Power BI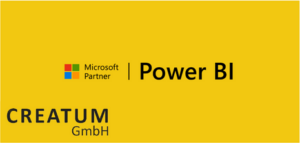 Microsoft Power BI puts the reins of data analysis and reporting in your hands, the business leader. Our Power BI consulting expertise allows you to quickly and effortlessly extract and present your data in a meaningful way that drives insights and action.
Successful business intelligence (BI) is all about leveraging data for informed decision-making that propels your organization forward and delivers superior results. Microsoft Power BI consulting services from Creatum is your key to unlocking this potential.
What is Microsoft Power BI?
Microsoft Power BI is a suite of business analytics tools designed to help your organization analyze data and share insights.With its rich data visualization and self-service business intelligence capabilities, Power BI provides a 360-degree view for leaders like you, with your most crucial metrics in one place, updated in real-time, and accessible on all your devices.
With both desktop and mobile interfaces, as well as cloud-based services, Power BI enables you to:
Deliver insights throughout your organization with Power BI dashboards
Connect to hundreds of data sources with our analytics consulting
Produce visually impactful, easy-to-read Power BI reports
Benefits of Microsoft Power BI
Data-driven decision-making
Cost optimization through efficient data analysis
Discover the Power of Advanced Analytics with Power BI
Upgrade from the familiar comfort of Excel to the dynamic capabilities of Power BI and turn your data into a strategic asset.
Leverage the advanced capabilities of Power BI for predictive analytics and smarter decision-making:
• Beyond Excel: While Excel is great for basic tasks, Power BI takes you further with its powerful data modeling and real-time analytics.
• Interactive Visuals: Transform your data into compelling stories with Power BI's interactive data visualization tools.
• Seamless Data Integration: Connect easily to various data sources, and clean and transform data with minimal effort.
Alireza Emami and Nohemi Villarreal, our esteemed Data Analytics Experts at Creatum, excel in transforming complex datasets into actionable insights for business growth. Their innovative approaches and passion for data-driven decision making have established them as invaluable assets to our team and clients alike.
Alireza Emami, a distinguished Data Analytics Expert at Creatum, excels in deciphering intricate datasets, empowering businesses to thrive. His passion for data-driven solutions, coupled with innovative techniques, establishes him as an invaluable team member. Alireza's expertise not only elevates decision-making processes but also ensures seamless implementation of practical insights, driving enhanced performance and fostering sustainable growth for our clients.
Nohemi Villarreal, a renowned Data Analytics Expert at Creatum, specializes in transforming raw data into meaningful insights for business optimization. Her dedication to developing data-driven strategies, alongside her creative problem-solving abilities, sets her apart as a key contributor. Nohemi's skillful analysis and tailored recommendations consistently yield tangible results, enhancing our clients' performance and promoting long-term success.
Hi there, are you interested in working with us or want to get to know us better? Just reach out to us and we will contact you shortly.